NASCAR Show Car Ministry
In partnership with Integrity Motorsports NASCAR Camping World Truck Team, Auto Racing Outreach provides a show car ministry at various NASCAR tracks, local tracks, RV shows, car shows, church events, and charitable events.  To inquire about a show car appearance contact Auto Racing Outreach.

Chaplain Ministry
Auto Racing Outreach provides a chaplain service in many NASCAR campgrounds ministering to the millions of NASCAR race fans across the country.
Race Fan Ministry
Chapel Services
Bible Studies
Fan Outraches
Gospel Tract and Bible Ministry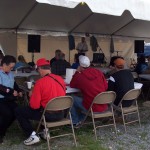 Church Ministry
Vacation Bible Schools
Special Meetings with NASCAR emphasis
Youth Camps
Gospel Tract Outraches
Revivals
NASCAR Men's or Youth Meetings